FBC Staff
« Back to Staff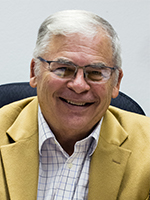 Hank Henry
Minister of Missions
office: 432-683-0623
How did you arrive at FBC?
Covered wagon…………Actually, I moved here from Lubbock with Texas Instruments in 1978 where I served as Human Resource Manager for 25 years before having the opportunity of serving as FBC's Associate Minister of Missions 12 years and now Minister of Missions.
Tell us about your family?
Married 47 years to wife Dawna. First met when she was dating my roommate at Texas Tech. I did her homework in our French class. We have three children: Tiffany, Marc, and Troy and six grandchildren. They're all taller than their grandfather.
Other than the Bible, what's your favorite book?
Kon-Tiki Expidition by Thor Heyerdahl, a Norwegian adventurer and ethnographer who sailed 5,000 miles across the Pacific Ocean in a hand-built raft from South America to the Tuamotu Islands in an effort to demonstrate that ancient people could have made long sea voyages, creating contacts between separate cultures.
What's your favorite vacation spot?
My wife would say Disney World, however, that's to be expected from a Mouse-a-holic. I think I would choose Israel and being able to walk in the footsteps of Jesus and associate places and events read about in the Holy Bible.
What do you do for fun?
Pass kidney stones. I would say I get the most enjoyment out of being places where I can enjoy nature (God's creation). That covers a lot of areas, mountains, lakes, rivers, rolling green hills covered in wild flowers, and sanctuaries for wildlife. I even enjoy visiting historic sites. Oh yeah…..hanging out with my grandchildren and sharing how it was back in those days.
What is the best thing about FBC?
Support as a family and focus on sharing Christ.
What's the best thing about what you do?
Seeing peoples' lives changed.
What would you say to someone to encourage them in their spiritual journey?
Life is full of ups and downs. I don't know anyone who has avoided these challenges. The only thing that I've found that is constant, is the love, compassion, encouragement and listening ear of our Lord and Savior. He never abandons us. We need to constantly seek His face and grace. Strive to not let every day pressures cloud our focus on Him and His desire for our lives of service for Him.