FBC Staff
« Back to Staff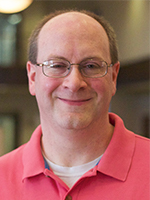 Jim Cawthon
Minister of Media
office: 432-683-0608
How did you arrive at FBC?
I moved to Midland to serve at FBC after serving with the North American Mission Board at their broadcast network FamilyNet. All along I had felt called into the Media Ministry of the church, and FBC was my first opportunity to serve Him and His people in that capacity.
Tell us about your family.
I'm married to Amy and have 3 children separated in age by 12 years. Amy and I met at Texas Tech in Lubbock and were married in 1996. After we moved to Midland in 2000, we had our first child and all three have joined our family here in Midland.
Other than the Bible, what's your favorite book?
I have two. I would say "The Pursuit of Holiness" by Jerry Bridges as well as "Fresh Wind, Fresh Fire" by Jim Cymbala are my two favorites. I pray that I am constantly in pursuit of holiness with God and I also pray that the church keeps a freshness of His Spirit among their minds and hearts so that we will always be in pursuit of God and His will for our lives.
What's your favorite vacation spot?
I'm particularly fond of Maine. I love not only the lushness of the foliage, but also the seasons of cold and mild weather throughout the year. I love the wild and it offers a beautiful place to appreciate the awesomeness of God's creation as well as the serenity of being isolated away from the hustle and bustle of life. Second to that though I enjoy our family trips to Disney properties. They are excellent in their service and their creativity.
What do you do for fun?
I play video games and take pictures. I studied in photography, so I do enjoy opportunities to use my camera to capture things from different perspectives.
What is the best thing about FBC?
I enjoy the people and how even though FBC is an older church and has deep roots in history, they use its facilities for new and different ways of reaching the community and ministering to all who enter its doors. FBC continues to be a resource to the community and that is attributed to its people being willing to keep the doors open to it.
What's the best thing about what you do?
I enjoy worship on Sunday morning. I enjoy being a part of the means for engaging people in participating in worship and providing opportunities for the Holy Spirit to work in lives both here on campus and throughout the community via the broadcast. I enjoy the diversity of the Media Ministry and all the ways we utilize communicating His gospel as well as our activities and the many resources we have to do His work each and every day.
What would you say to someone to encourage them in their spiritual journey?
Anything that catches us off guard or throws us for a loop is not a surprise for Him. God is in control even when we feel out of control. He wants only the very best for us even if we have to sacrifice or experience things we don't enjoy to be where he is taking us. His plans are perfect and not necessarily mine, so it's always important to seek His direction and watch the doors as they open and close.