FBC Staff
« Back to Staff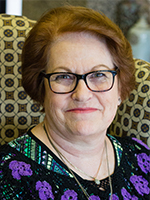 Betty Roy
office: 432-683-0613
How did you arrive at FBC?
Started with FBC January, 1999 in Publication – with my background in accounting and business management I was promoted to Director of Finance in 2000 and to Director of Business Management in 2011.
Tell us about your family.
Married 45 years in March 2017. Have 2 children, 7 grandchildren and 1 great granddaughter and a great grandson due in April.
Other than the Bible, what's your favorite book?
Any book written by Jan Karron, Max Lucado or Janette Oke.
What's your favorite vacation spot?
Would love to visit Australia – haven't made it there yet. What do you do for fun? Watch Rockhounds baseball, Midland College athletics, UTPB football and High School athletics. To relax I crochet.
What is the best thing about FBC?
The many opportunities to either help or learn available to everyone and especially the people of FBC.
What's the best thing about what you do?
Being able to help people.
What would you say to someone to encourage them in their spiritual journey?
We all have struggles – turn them over to the Lord continually and He will help you through each situation. Stay in the Word, there is always an answer to what we go through. Sometimes it's just the peace He gives you when you depend on Him that helps you through whatever comes your way.