FBC Staff
« Back to Staff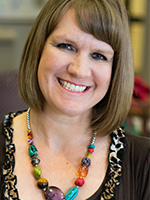 Shane Dockrey
Interim Minister to Preschool
office: 432-683-0627
How did you arrive at FBC?
I'm a "home-grown" FBC girl! I was born in Midland and grew up in this WONDERFUL church. After I graduated from Texas Tech (Go RED RAIDERS), I got a teaching job back in Midland and rejoined FBC. Then, when my daughter was born, I became a stay-at-home mom. In August 2014, I was asked to serve as Interim Preschool Minister where I have served on and off since then.
Tell us about your family.
I have the most AMAZING husband ever! My husband, Justin, and I have been married since June 3, 2000! We met in the FBC's Singles group and graduated to the Married class. We have been blessed with 2 girls that we ADORE named Jaycee, born April 7, 2004 and Sadie, born March 30, 2008. My WONDEFUL parents are members of this church as well, Terry and June Williamson.
Other than the Bible, what's your favorite book?
I LOVE to read anything by Karen Kingsbury!
What's your favorite vacation spot?
Ruidoso, NM
What do you do for fun?
I love to play games! Any takers?!?!?!
What is the best thing about FBC?
FBC is like a second home and has always been that way. I grew up here, asked Jesus to be my boss here, was baptized here, married here, participated in Baby Recognition with both my girls here, watched both Jaycee and Sadie ask Jesus to be their boss here, saw them both get baptized here, and have been allowed to serve in this church, over the years, that I dearly love!
What's the best thing about what you do?
The Preschool years are such an important time in a child's life. It excites me to pour God's Word (verses and stories from the Bible) into young hearts. The Preschool Ministry is building a spiritual foundation for these kids so that when God calls them to Him, their hearts are soft and ready to say, "YES"! In addition, ministering to the young families of our church is a blessing as well!
What would you say to someone to encourage them in their spiritual journey?
During each stage of life, God has used me in different ways. I've learned that He uses our experiences and passions to prepare us for what's right around the bend. Continue to be in God's Word (for it is really the LIVING WORD and hits you right where God wants it to) and ask how He wants to use you right now. Three of my favorite verses/passages are: Jeremiah 29:11, Proverbs 3:5-6 and Isaiah 55:10-11.