FBC Staff
« Back to Staff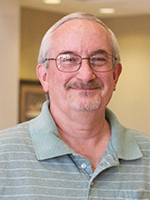 Robbie Boyd
Associate Pastor - Pastoral Care
office: 432-683-0692
How did you arrive at FBC?
I was "in-between" churches and living in Waco when I submitted my resume in the Fall of 2017 and it caught the eye of Dr. D. We have known each other since our youth ministry days doing Super Summer. One thing led to another and the church called us to serve at FBC. What a blessing!
Tell us about your family.
I've been married to Paula since 1980 and we have three great kids who are all married and have families of their own. Ben is married to Courtney, has three children, and lives in Snyder. Sarah is married to Tim, has one child, and lives in Midland. Thomas is married to Kendra, has one child, and lives in Lubbock.
Other than the Bible, what's your favorite book?
Purpose Driven Life by Rick Warren (now retitled What On Earth Am I Here For?). It is such a foundational guide as to why all of us have been created by God to do His will…Ephesians 2:10.
What's your favorite vacation spot?
Ruidoso NM. It's peaceful, somewhat secluded, and most of all, the weather is cool.
What do you do for fun?
Hang out with family; especially grandkids. We have five grandkids and they are more fun than I can describe.
What is the best thing about FBC?
The people are amazing. We have been welcomed here like no other place we've ever been. People are constantly wanting to know how we're doing and how they help. The people are FBC Midland.
What's the best thing about what you do?
Getting to see how a simple visit can make someone's day. Most of the time when I go see someone, they are in the hospital or recovering from an injury or illness. It's amazing how a simple visit can make a big difference in a person's recovery.
What would you say to someone to encourage them in their spiritual journey??
There is never a time when God is not walking with you in your journey through this life. He is never caught "off guard" by anything that happens to or around you. Because of that, you can know that "you are God's masterpiece. He has created you anew in Christ Jesus, so you can do the good things he planned for you long ago." Ephesians 2:10 (NLT)