FBC Staff
« Back to Staff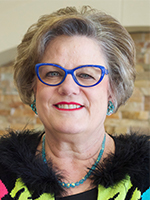 Janna Boyd
Minister to Senior Adults
office: 432-683-0653
How did you arrive at FBC?
My family first moved to Midland Texas in 1991. After teaching school nine years here, I joined the staff of FBC in the summer of 2000 as the Associate Minister of Music. I left in 2011 to help start Austin Baptist Church in Austin, and then returned in October of 2014 to be the Minister to Senior Adults.
Tell us about your family.
I married Crosby Boyd in 1975 during our years at Baylor and we have three children. Our oldest Elizabeth lives with her husband Carl and our only grandchild, Isaac, in Brockport, New York and is a professor at the State of New York campus there. Our middle child Emily is married to Kevin and works for the TCEQ in Austin Texas. Our son Mc lives in Midland and is married to Teagan.
Other than the Bible, what's your favorite book?
I love to read books such as Then Sings My Soul that tell the stories behind great hymns and their writers.
What's your favorite vacation spot?
Currently my favorite spot to visit is New York because my grandson Isaac is there.
What do you do for fun?
Mr. Boyd and I are avid Baylor Bear fans and we enjoy watching and keeping up with Baylor sports. I love to plant flowers and entertain people in our home and backyard. When time allows, I also like to write music.
What is the best thing about FBC?
It is a blessing to have such a large family! During some health issues through the years, my family has been truly carried by the prayers of caring FBC friends.
What's the best thing about what you do?
I get to spend a lot of time with people who have loved and served the Lord for a long time and still want to worship and serve him. Seniors are very special, fun, and appreciative individuals.
What would you say to someone to encourage them in their spiritual journey?
Never close the door on others who have not accepted Christ, as you never know about the seeds that have been planted and what God can do to reach that person. Life can be hard, but God is good and always with you. Keep music in your life as it is a wonderful way to express feelings, and a great way to express worship and praise to our Lord. Speak often to Him, and read His word. Find Christian friends that will encourage and strengthen you. Look forward to heaven!