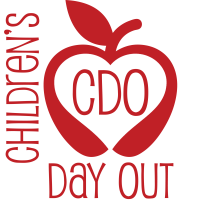 The Children's Day Out program utilizes Lifeway's Gospel Project Curriculum. This curriculum is also used on Sunday mornings in Sunday School classes at FBC.  God's Word is taught through learning centers, exposing the child to a variety of age materials and experiences, and through daily group Bible stories and memory verses. Music is also offered for children of all ages and Chapel, Science, and Martial Arts are offered to promote well-balanced learning and growth for children ages 2 and up.  Our CDO program is open to all children in the Midland community.
The teachers to child ratios are as follows:
Babies - 2 teachers for 8 children
Ones - 2 teachers for 10 children
Twos - 2 teachers to 12 children
Threes- 2 teachers for 14 children
Pre-Kindergarten - 2 teachers for 20 children
2021-2022 Registration
Children's Day Out registration has concluded for the 2021-2022 school year, but you can contact the CDO office for information about possible openings or our waitlists. Registration packets are available from the CDO office.  
A packet must be complete with:
Registration form
Handbook Agreement
Fee Acknowledgement
Registration Fee ($70)
Security Fee ($195)
Current Immunization record 
The security fee will be assessed once, per child, upon registration, and will be held while your child is enrolled in our program.  If you previously paid the security fee for the 2021-2022 year, it is not necessary to pay it again.  The Security Fee will be refunded if a request is made (by the form in the CDO office) 30 days prior to your child not returning to the program.  If you are enrolled and decide not to come for the 2021-2022 year, the 30-day window ends on August 6.
The registration fee is non-refundable.
DATES/TIMES
The Children's Day Out program will begin on Tuesday, August 24th, and will end on Thursday, May 19th, 2022. We meet on Tuesdays and Thursdays from 9:00 to 2:15 pm.
TUITION FOR 2020-2021 
Tuition will be based on the age of your child on September 1, 2021. Monthly tuition for infants up to one year of age is $215 and for children one year and older is $195.  Tuition is due each month (September through May) by the 15th.
To register, you will need to complete your registration packet and drop it off at the Children's Day out office.  All packets will be reviewed and we will contact you as soon as possible with your enrollment status.  All monies will be held until a spot is secured.
For additional information contact us at 432.683.0632 or email, For additional information contact us at 432.683.0632 or email, Micah McGhee, CDO Director at