Preventing Caregiver "Burnout"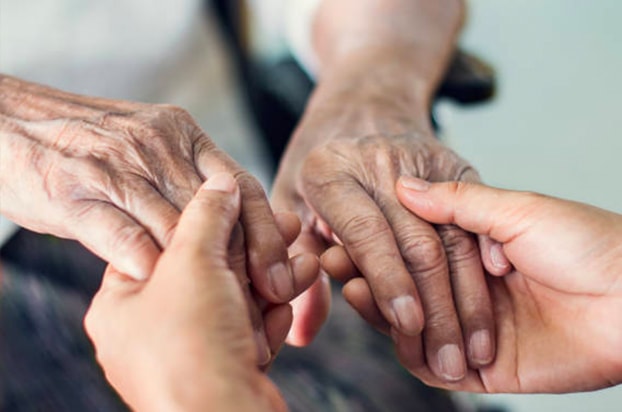 Learn as much as you can about your family member's illness so that you can be the best caregiver that you can be. Knowledge is power and the more you know, the more effective you will be as a caregiver.
Know your limits. Be realistic about how much time and energy you can invest in being a caregiver. Set your limits and clearly communicate your limits with your family members, doctors, and others who are involved.
Accept your feelings. Caregiving can trigger a wide variety of emotions including resentment, fear, guilt, anger, sadness, and helplessness. As long as you don't compromise the well-being of the receiver, allow yourself to feel what you feel.
Confide in others. Talk to others about what you feel and what you are going through. Lean on your friends, family, and your church and join a support group so that you do not feel like you are going through this journey alone.
For more information on Caregiver health, go to helpguide.org.
10 TIPS FOR CAREGIVERS:
Caregiving is a job, and respite is your earned right. Reward yourself with respite breaks often.
Watch out for signs of depression and don't delay getting professional help when you need it.
When people offer to help, accept their help and suggest specific things that they can do.
Educate yourself about your loved one's condition and how to communicate effectively with doctors.
There's a difference between caring and doing. Be open to technologies and ideas that promote your loved one's independence.
Trust your instincts. Most of the time they'll lead you in the right direction.
Caregivers often do a lot of pulling, pushing, and lifting. Be good to your back.
Grieve for your losses, and then allow yourself to dream new dreams.
Seek support from other caregivers. There is great strength in knowing you are not alone.
Stand up for your rights as a caregiver and a citizen.
For more information on Caregiver tips, go to: www.thefamilycaregiver.org
ASSISTED LIVING LOCATIONS IN MIDLAND/ODESSA
Legacy Ranch Memory Care
4800 Briarwood Avenue, Midland, TX
Cimarron Place
3400 Caldera Boulevard, Midland, TX
Helen Greathouse Manor
401 Helen Greathouse Circle, Midland, TX
Brookdale Midland
1808 W. Loop 250 N, Midland, TX
Brookdale Sherwood
3939 East 52nd Street, Odessa, TX
The Courtyards Assisted Living and Memory Care
201 Parks Village Drive, Odessa, TX
Orchard Park of Permian Basin
8050 Doctor Emmitt Headlee St, Odessa, TX
The Parks Senior Living
111 Parks Village Dr, Odessa, TX
NURSING HOME LOCATIONS IN MIDLAND/ODESSA
Mabee Health Care Center
2208 N LOOP 250 W, Midland, TX
Terrace West Nursing and Rehabilitation
2800 MIDLAND DR, Midland, TX
Madison Medical Resort
5001 Office Park Drive, Odessa, TX
The Parks Senior Living
111 PARKS VILLAGE DR, Odessa, TX
Sienna Nursing and Rehabilitation
2510 W EIGHTH, Odessa, TX
Senior Care of Midland
3000 Mockingbird Lane, Midland, TX
Buena Vida Nursing and Rehab Odessa
3800 ENGLEWOOD LN, Odessa, TX
Ashton Medical Lodge
801 South Loop 250 West, Midland, TX
Seabury Center NCU
2443 W 16TH ST, Odessa, TX
Desert Gardens Nursing & Rehabilitation Center
3203 Sage Street, Midland, TX
Rockwood Manor
2000 N Main, Midland, TX
Trinity Haven of Midland
3203 SAGE ST, Midland, TX
Deerings Nursing and Rehabilitation
1020 N COUNTY RD WEST, Odessa, TX
Stanton Nursing and Rehabilitation
1100 W BROADWAY, Stanton, TX
Permian Residential Care Center
1601 NE MUSTANG, Andrews, TX
HOME HEALTH CARE
Hands of Compassion HomeCare
Address: 1030 Andrews Hwy Ste 203, Midland, TX 79701
Phone: (432) 218-7996
Website: hochomecare.com
Home Instead Senior Care
Address: 3001 W Illinois Ave Ste 3B1, Midland, TX 79701
Phone: (432) 689-4663
Website: homeinstead.com
Encompass Home Health
Address: 4610 N Garfield St Ste B-20, Midland, TX 79705
Phone: (432) 570-8899
Website: ehhi.com
St. Joseph's Home Health, Inc.
Address: 30 Village Cir, Midland, TX 79701
Phone: (432) 684-5858
Website: stjosephinc.com
Home Care Assistance of West Texas
Address: 6415 N ST Highway 349, Midland, TX 79705
Phone: (432) 695-6489
Website: homecareassistance.com
Angels Care Home Health
Address: 1030 Andrews Hwy Ste 109, Midland, TX 79701
Phone: (432) 687-3327
Website: angelshealth.com
S & R Home Health, Inc.
Address: 1030 Andrews Hwy Ste 109, Midland, TX 79701
Phone: (432) 570-8880
Website:
Interim HealthCare of Midland TX
Address: 1031 Andrews Hwy, Suite 200, Midland, TX 79701
Phone: (432) 550-7593
Website: interimhealthcare.com
Su Casa Home Health
Address: Midland, TX
Phone: (432) 520-2556
Website: sucasahomehealth.com
In-Home Care Inc
Address: 808 W Indiana Ave, Midland, TX 79701
Phone: (432) 570-4475
Website: InHomeCare.com
Tripple C Health
Address: 2008 W Wall St, Midland, TX 79701
Phone: (432) 686-7449
Website: tripplechealth.com
Midland Respiratory Home Care
Address: 3402 N Big Spring St, Midland, TX 79705
Phone: (432) 683-1199
Comfort Keepers of Midland, TX
Address: 4305 N Garfield St Ste 205, Midland, TX 79705
Service Areas: Midland · Odessa · Andrews · Lamesa · Gardendale · Lenorah · Goldsmith
Phone: (432) 520-0414
Website: midland-208.comfortkeepers.com
Nurses Unlimited
Address: 1020 Andrews Hwy, Midland, TX 79701
Service Areas: Midland · Odessa · Big Spring · Andrews · Stanton · Gardendale
Phone: (432) 522-5080
Website: nursesunlimited.com
Visiting Angels
Address: 10 Desta Dr #105E, Midland, TX 79705
Phone: (432) 897-4094
Website: visitingangels.com
Accolade Home Care
Address: 1410 Rankin Hwy, Midland, TX 79701
Phone: (432) 686-1944
Website: accoladehomehealth.com
HOSPICE
Hospice of Midland
Address: 911 W Texas Ave, Midland, TX 79701
Service Areas: Midland · Odessa · Big Spring · Stanton · Crane · Gardendale · Rankin · McCamey · Garden City
Phone: (432) 682-2855
Website: Hospice of Midland
Home Hospice
Address: 808 W Missouri Ave, Midland, TX 79701
Phone: (432) 570-0700
Website: homehospicewtx.com
Compass Hospice
Address: 3001 W Illinois Ave #3A, Midland, TX 79701
Phone: (432) 704-5211
Website: compasshospice.com